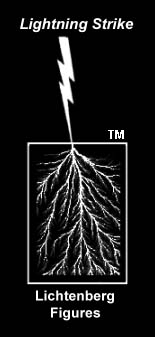 Lichtengraph™ Lichtenberg Figures
Bookmark/Share/Link
Product Galleries
Lichtenberg Figures

Shopping Basket
View Contents
Pay Previous Order
Product Information
Detailed Description
One of a Kind
Creation
About Our Photos
Use Instructions
Care Instructions

Learn More
Lichtenberg Figures
Fractals
Solarization
Crazing
Lightning
Fulgurites

Company Information
Home Page
Satisfaction Guarantee
Payment Options
Shipping and Handling
Pricing & Distribution

Keep in Touch
Subscribe
Contact Us
Survey
Legal Notices
Copyrights
Trademarks
Privacy Policy

Copyright © 1996-2005 by Tegus Corporation. All rights reserved.
LF051025Xshow
Payment Options
Some items may have special requirements and additional terms and conditions in the item description which supersede these terms and conditions. These terms and conditions are subject to change without notice.
Credit Cards

We accept MasterCard, Visa, American Express, and Novus/Discover. We charge your account when your order is ready to ship. Please see "Ship-To Address Limitations" under Shipping and Handling."
-
Checks

We accept checks, cashier checks, certified checks, and Money Orders from, US customers drawn on US banks only. Make payable to "Tegus Corporation." We charge a $30 fee for returned checks. Shipping may be delayed until your check clears and payment is complete. We do not accept checks online, however we accept eChecks and bank payments through PayPal.
-
PayPal

We accept PayPal payments, through our secure online ordering system and by eBay's Pay Now button. Please do not initiate a payment directly from your PayPal account or it may not be properly credited to your purchase. PayPal charges your account when you place your order (not when your order is ready to ship). PayPal eChecks take 3-4 days to clear (longer if initially declined). We may delay shipment until the payment has cleared and complete. To avoid delays, use your PayPal balance, Instant Transfer, or your PayPal registered credit card.

Other Terms & Conditions

We do not accept money (currency) sent by mail.
We do not accept COD orders.
All prices are in US dollars unless otherwise indicated.
We are not responsible for pricing errors, even on our site.
We reserve the right to refuse any order at our discretion.
Printer Friendly View
This site is monitored by mon.itor.us and Pliner.Net