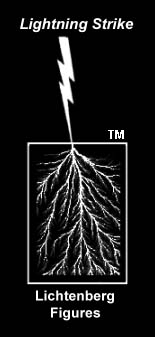 Lichtengraph™ Lichtenberg Figures
Bookmark/Share/Link
Product Galleries
Lichtenberg Figures

Shopping Basket
View Contents
Pay Previous Order
Product Information
Detailed Description
One of a Kind
Creation
About Our Photos
Use Instructions
Care Instructions

Learn More
Lichtenberg Figures
Fractals
Solarization
Crazing
Lightning
Fulgurites

Company Information
Home Page
Satisfaction Guarantee
Payment Options
Shipping and Handling
Pricing & Distribution

Keep in Touch
Subscribe
Contact Us
Survey
Legal Notices
Copyrights
Trademarks
Privacy Policy

Copyright © 1996-2005 by Tegus Corporation. All rights reserved.
LF051025Xshow
One of a Kind
Every Lichtenberg Figure is Unique
Discharge Shape
Part of the fascination and beauty of fractal Lichtenberg figures is that every one is unique. Like snowflakes and fingerprints, no two are ever the same. Your sculpture is guaranteed to be one of a kind!
Solarization
Not only is the shape unique, the solarization varies too. The thickness, saturation, and hue of the tint band varies with electron beam exposure, temperature, and time. Over the years, the solarization tends to fade.

Printer Friendly View

This site is monitored by mon.itor.us and Pliner.Net