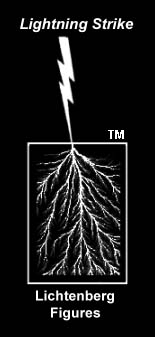 Lichtengraph™ Lichtenberg Figures
Bookmark/Share/Link
Product Galleries
Lichtenberg Figures

Shopping Basket
View Contents
Pay Previous Order
Product Information
Detailed Description
One of a Kind
Creation
About Our Photos
Use Instructions
Care Instructions

Learn More
Lichtenberg Figures
Fractals
Solarization
Crazing
Lightning
Fulgurites

Company Information
Home Page
Satisfaction Guarantee
Payment Options
Shipping and Handling
Pricing & Distribution

Keep in Touch
Subscribe
Contact Us
Survey
Legal Notices
Copyrights
Trademarks
Privacy Policy

Copyright © 1996-2005 by Tegus Corporation. All rights reserved.
LF051025Xshow
Pricing and Distribution
Market Price
Items which are similar to our eBay auction items are priced at a Web site "Market Price." We do this to be fair to our eBay bidders and buyers, and to comply with eBay's requirement that our Web site not circumvent our auctions.

The Market Price is continually adjust so that the last eBay winning bid and current highest bid on a similar item are always at least 20% below the Web site price. There is also usually a minimum price for an item below which the Market Price will never fall regardless of how low the eBay bids are.

If you purchase from the Web site, you can lock in the Market Price, which might be lower than the final auction price. On the other hand, if you bid on the auction, you might win the item for considerably less than the Web site price.

If an item is being auctioned for the first time in a while, it is not available on our Web site until the end of the auction because there is no "last winning bid" from which to determine the current Market Price. It might be made available after the end of the auction at a new Market Price.

Also, when we start an auction listing with a Buy-It-Now button, we set the Buy-It-Now price to the current Market Price.
Seconds
We occasionally sell seconds which have flaws and are not similar in quality to products we sell on eBay and at market prices. They are clearly marked as such in their descriptions or titles and are exempt from our normal pricing policy. They still carry our 100% satisfaction guarantee unless otherwise indicated.
Wholesale and Quantity Discounts
Because of how our Lichtenberg figures are created, it is not currently economical for us to offer wholesale or quantity discounts.
Resale
Though we can't sell wholesale now, we don't object to our customers reselling our products at a higher price or using them in other value-added products such as trophies, advertising specialties, incentives, awards, etc.
Our eBay Policy
We sell some of our Lichtenberg figures by auction on eBay. We comply fully with eBay's User Agreement and Listing Policy which prohibits us from using eBay to advertise or solicit direct (outside of eBay) sales. eBay's policy does not prohibited sellers from responding to requests for direct purchases from eBay users, however such requests might violate eBay's policy for buyers. We are not prohibited from marketing the same products on our Web site or through other channels.

Printer Friendly View

This site is monitored by mon.itor.us and Pliner.Net