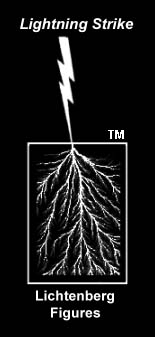 Lichtengraph™ Lichtenberg Figures
Bookmark/Share/Link
Product Galleries
Lichtenberg Figures

Shopping Basket
View Contents
Pay Previous Order
Product Information
Detailed Description
One of a Kind
Creation
About Our Photos
Use Instructions
Care Instructions

Learn More
Lichtenberg Figures
Fractals
Solarization
Crazing
Lightning
Fulgurites

Company Information
Home Page
Satisfaction Guarantee
Payment Options
Shipping and Handling
Pricing & Distribution

Keep in Touch
Subscribe
Contact Us
Survey
Legal Notices
Copyrights
Trademarks
Privacy Policy

Copyright © 1996-2005 by Tegus Corporation. All rights reserved.
LF051025Xshow
Lichtenberg Figures
What is a Lichtenberg figure?
A Lichtenberg figure is the result of a tiny electrical storm inside a transparent glass or acrylic "thundercloud." It is a frozen trace of J-streamer lightning which occurred during a "thunderstorm" we created within it. It is a permanent crystallized record of lightning.

Look at where the streamers all flow together into one large channel at the bottom of your "thundercloud." All of the charge left the "thundercloud" at that point, into the top of a miniature lightning strike, and on down to earth.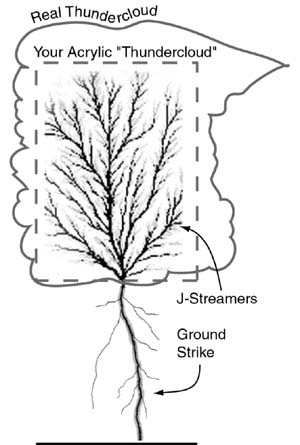 How small are the channels?
Under a 300X microscope, many of the channels are tiny lines compared to a human hair. We estimate their size at 1/10 to 1/20 the size of a hair, or 100 to 200 millionths of an inch. Many are even smaller and can't be seen.


Printer Friendly View

This site is monitored by mon.itor.us and Pliner.Net