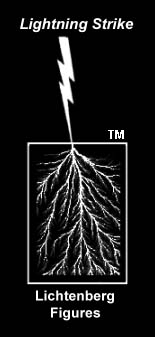 Lichtengraph™ Lichtenberg Figures
Bookmark/Share/Link
Product Galleries
Lichtenberg Figures

Shopping Basket
View Contents
Pay Previous Order
Product Information
Detailed Description
One of a Kind
Creation
About Our Photos
Use Instructions
Care Instructions

Learn More
Lichtenberg Figures
Fractals
Solarization
Crazing
Lightning
Fulgurites

Company Information
Home Page
Satisfaction Guarantee
Payment Options
Shipping and Handling
Pricing & Distribution

Keep in Touch
Subscribe
Contact Us
Survey
Legal Notices
Copyrights
Trademarks
Privacy Policy

Copyright © 1996-2005 by Tegus Corporation. All rights reserved.
LF051025Xshow
Satisfaction Guaranteed
Some items may have special requirements and additional terms and conditions in the item description which supersede these terms and conditions. These terms and conditions are subject to change without notice.
Satisfaction Guarantee

If you are unhappy with a product for ANY REASON, we will happily give you a full refund (excluding shipping and handling), IF you:
Notify us within 3 days of delivery;
Return the product and packaging in their original condition; and
Use our return procedure below.
-
Quality Guarantee

For new products which we manufacture, we also offer an additional manufacturer's quality guarantee. This guarantee applies only to: Kindredtokens hand-built porcelain jewelry and framed jewelry; and Lichtenberg figures. We will gladly give you a replacement or full refund (including shipping & handling) for any defective product, IF you use our return procedure below.
-
Packing Errors

Claims for packing errors must be submitted to us within 3 days of delivery.

Return Procedure

Please follow these three simple steps for all returns:
Contact us to get a return authorization number. Please tell us:
The reason for the return (defect or dissatisfaction);
If you want a replacement or refund;
Where to send the replacement or refund; and
How to contact you if we require further information.
Securely pack the product.
Pack as originally packed using the original packing material.
Mark the return authorization number on the outside of the package.
Mark your return address on the package.
Address to: Tegus Corporation, 2940 Crescent Ave Unit 263, Eugene, OR 97408
Send the package by US Mail (unless international).
You are responsible for all return postage charges.
Insure the package for its full value.
Purchase Delivery Confirmation.
Send either First Class or Priority.
Printer Friendly View
This site is monitored by mon.itor.us and Pliner.Net