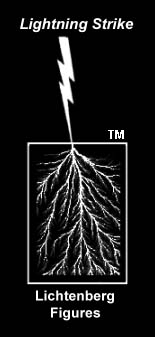 Lichtengraph™ Lichtenberg Figures
Bookmark/Share/Link
Product Galleries
Lichtenberg Figures

Shopping Basket
View Contents
Pay Previous Order
Product Information
Detailed Description
One of a Kind
Creation
About Our Photos
Use Instructions
Care Instructions

Learn More
Lichtenberg Figures
Fractals
Solarization
Crazing
Lightning
Fulgurites

Company Information
Home Page
Satisfaction Guarantee
Payment Options
Shipping and Handling
Pricing & Distribution

Keep in Touch
Subscribe
Contact Us
Survey
Legal Notices
Copyrights
Trademarks
Privacy Policy

Copyright © 1996-2005 by Tegus Corporation. All rights reserved.
LF051025Xshow
Fulgurites
Is there natural "frozen lightning"?
Yes, they are called fulgurites. While the Lichtenberg figure is like frozen J-streamers in a cloud, a fulgurite is a frozen ground strike. Here is a description from the book All About Lightning by Martin A. Uman:
"When lightning strikes sand or certain kinds of rocks, the channel heat melts the material along its path. When the melted material solidifies, the resulting fulgurite (from Latin fulgur, meaning lightning) represents a permanent record of the lightning diameter and path. Fulgurites in dry sand are generally long hollow tubes with corrugated glassy walls."
They can be as long as 60 feet and have diameters from 1/2 to 2 inches. Artificial fulgurites have also been produced in the lab.


Printer Friendly View

This site is monitored by mon.itor.us and Pliner.Net