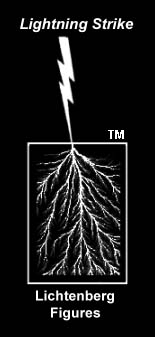 Lichtengraph™ Lichtenberg Figures
Bookmark/Share/Link
Product Galleries
Lichtenberg Figures

Shopping Basket
View Contents
Pay Previous Order
Product Information
Detailed Description
One of a Kind
Creation
About Our Photos
Use Instructions
Care Instructions

Learn More
Lichtenberg Figures
Fractals
Solarization
Crazing
Lightning
Fulgurites

Company Information
Home Page
Satisfaction Guarantee
Payment Options
Shipping and Handling
Pricing & Distribution

Keep in Touch
Subscribe
Contact Us
Survey
Legal Notices
Copyrights
Trademarks
Privacy Policy

Copyright © 1996-2005 by Tegus Corporation. All rights reserved.
LF051025Xindex
Lichtengraph Frozen Lightning™ Sculptures
Personal Lightning Bolt
If you could freeze lightning, what would it look like? This Lichtenberg figure, also known as an electron tree, could be your own personal lightning bolt. Its creation started with the careful preparation of a crystal-clear acrylic shape. Then, a high energy particle accelerator charged it to its breakdown limit of over a million volts. In a flash, a miniature electrical storm burnt a ghostly image of lightning inside -- Frozen Lightning™


Totally Unique
Like snowflakes and people, this beautiful sculpture is one of a kind. There isn't another one exactly like it in existence, and there never will be. Buy this mysterious artifact to display in your home and workplace, or to give as unique and special gift.
Art, Science, and Beyond
You don't have to be a scientist to appreciate the beauty of this lightning trace. But, the story of its creation appeals to the curiosity and scientist in all of us. This delicate and intricate fractal pattern created by the awesome and wild force of "lightning" is an eternal source of mystery and amazement.
Amaze and Intrigue
See the awe when you show this to your friends and describe the powerful force that created this rare artifact. They'll be intrigued by this beautiful and mysterious fusion of art and science.
Now Available Directly to You
Our Lichtengraph™ division of Tegus Corporation had been selling Lightning Strike™ Frozen Lightning™ sculptures through a handful of select museum stores and gift shops across the country since 1998. Unfortunately, only people lucky enough to visit one of our few distributors were able to see and purchase one of our rare scientific curios.

Now, we are pleased to offer this coveted treasure directly to you on our Web site and through eBay auctions. Visit our site gallery to see our full selection. See our eBay auction listings for special sales of selected items. To our knowledge, our Lichtenberg figures are not currently available in stores or shops.

Printer Friendly View

This site is monitored by mon.itor.us and Pliner.Net